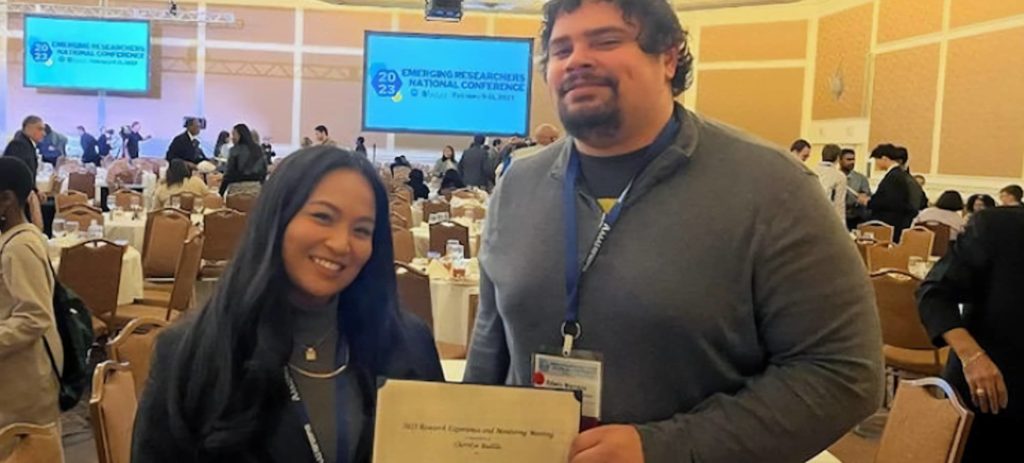 For Edwin Marrero—an educator at the Harlem-based Hamilton Grange Middle School—access to STEM education is not a luxury, it's a lifeline with the potential to change the trajectory of a student's journey. It was something that he leaned into while coming of age; mastering the art of math and using it as a source of connection at school after he and his family immigrated from Puerto Rico when he was 8 years old.
"When I first entered school, I only spoke Spanish," Marrero told Columbia Neighbors. "Math for me when I came here was the language that I communicated most effectively in. I was fluent with the numbers."
Navigating and getting acclimated to the school system as a student wasn't an easy adjustment for Marrero, but it's the classroom experiences that would later fuel him to enter the realm of teaching and lead him to become a fierce advocate for ensuring culturally relevant and engaging STEM curriculums are being implemented in Uptown schools.
Through the support of the Columbia-NYU COSMOS-NewLAW Research Experience and Mentoring for Teachers (REM/RET) initiative, Marrero—who won national honors at this year's Emerging Researchers National Conference in STEM—is taking a holistic approach to using STEM as a source of empowerment for youth in Harlem. The program, supported by the National Science Foundation (NSF), offers resources to cultivate innovative and immersive learning experiences for middle and high school students in New York City and develops an ecosystem of like-minded educators across the Big Apple to bring this vision to fruition.
Columbia Neighbors spoke with Marrero about his passion for teaching, showing youth the endless possibilities that exist within STEM, and how the COSMOS program has supported him as an educator. 
What sparked your passion for education?
My mother stressed the significance of education. She emphasized getting good grades and I hit the books very hard as a kid. I was very keen on its importance and the different opportunities that it could provide for you. I held that with me through college.
College is where you get to learn a lot about yourself. That's when I started discovering that I wanted to ensure that youth get to experience higher education. It definitely influenced my decision to get into teaching. I also did peer mentoring programs growing up, and that taught me a lot about the importance of finding common ground with youth. My ability to relate to the kids and to the mentees that I've had, pushed me to this path in education.
What is your earliest memory of witnessing the power of education?
When I was a child, I moved around to several different schools; often to get out of dicey situations. I dealt with overt racism and bullying as a kid. With moving between these different schools, I was jumping from one curriculum to the next. It was difficult because it caused so many gaps. My 10th-grade math teacher Ms. Alger voiced that she saw potential in me and would stay after class to catch me up with the schoolwork that I missed between the transitions. She made extra time for me and that stood out because it was one of the first times that I realized there are educators out there who truly care.
Some teachers put their best foot forward and they will do everything to make sure you succeed. That was a moment that pushed me to teach. From a teacher's perspective, I never really realized how much of an impact you have on youth. They mimic your mannerisms. Sometimes they copy your style of clothes. It's just a different level of impact that you have.
One thing that I've learned is that as an educator you bring a lot of your upbringing from home and your experiences in the classroom, into your classroom. You can leave a very lasting impact on these kids which is why, I always go to work and make sure I'm my best self because the kids match the energy you give. You give positive energy, the kids will give it right back.
You can leave a very lasting impact on kids, which is why I always go to work and make sure I'm my best self because the kids match the energy you give. You give positive energy, the kids will give it right back.
Can you talk about the importance of making sure STEM education is accessible in communities like Upper Manhattan?
Making STEM accessible is very important because I feel like a lot of communities, especially with the students that I serve, aren't aware of the opportunities that exist for them in STEM. Some of the things that these kids are able to do with video editing and different tech skills are incredible, but I don't know if they realize those skills are transferable to STEM careers. I want them to consider opportunities that do exist in math and science. This will only serve to help generate more interest in STEM. It's not just the youth that become aware of it, but they then take what they've learned and share it with their families as well.
How did you get involved in the COSMOS program?
When I learned the COSMOS program offers the opportunity to explore engineering, generate labs and use them to bring different lessons into the classroom, it intrigued me. I thought it would help elevate the existing curriculum that we have at our school.
I want kids to be able to experiment more in math and not feel like experiments only happen in science. There's somewhat of a fear factor that exists around math. If there's any way that I can try to make math more fun, engaging, and experimental, I want to do that. I thought that this program was an opportunity to explore that. It was successful. The kids loved the lessons that we taught using the labs that COSMOS has generated.
How has your involvement in the program helped you along your teaching journey?
You can never have enough in your teaching toolbox. Being able to utilize these labs and this program in school definitely helped. The kids did love it when we did those lessons. It also reignited my love for learning. It sparked my interest in being in the classroom again as a student. It also helped introduce me to a bunch of other educators in New York City and their passions. I made some good relationships over the course of the program. Some of the folks I still talk to daily. Overall, it's been a very unique and very cool experience working with everyone between Columbia, NYU, and the other educators.
You can never have enough in your teaching toolbox. Being able to utilize these labs and this program in school definitely helped.
What's on the horizon for you?
I love where I'm at right now. I love the kids that I'm working with and I'm excited for the next group of kids that I'm going to see next year. I want to try to think of different ways in which we can continue to bring STEM and STEM research into the classroom and generate more interest in the youth that we work with.
I also think there are things that we can work on through collaboration with different universities, like bringing kids to a science lab and seeing the different types of work that graduate students, professors, and other folks do. That way they can see what's out there. These are all things that I'm thinking about in service of pushing STEM.
---